Vivel Active Essential 3 In 1 Facewash + Scrub (All Skin types)100Ml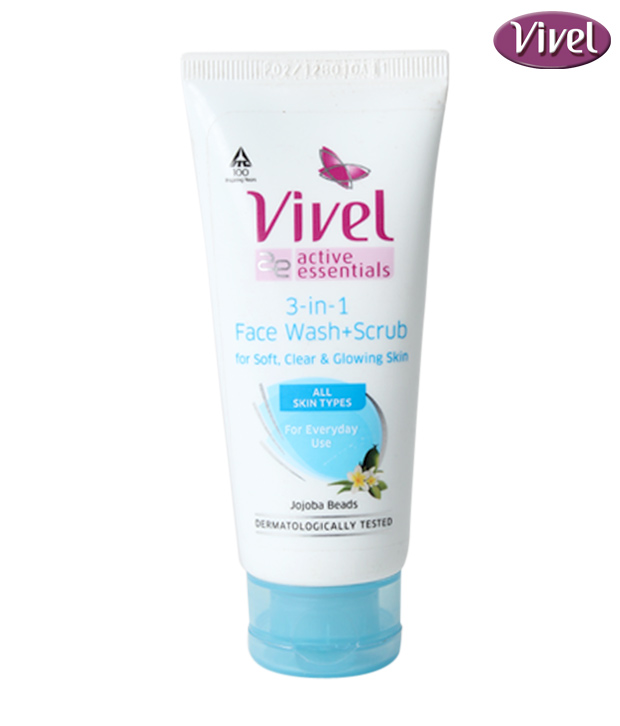 Get a smooth and clean skin.Contains jojoba beads.Good for all skin types. The product can be used as a face wash and scrub.The gentle jojoba scrub reveals a bright and glowing skin; the cleansing action removes oil, dirt and pollutants from skin; and the glycerin and pro vitamin E base helps to moisturise the skin.


Rs 64/-





Johnson's 3-in1 face wash






Johnson's brand gives four 3 in 1 face washes
Gentle exfoliating
Refreshing
Foaming facial wash





And also eye makeup remover and eye makeup removing pads

This contains 25 pads




Garnier Light 3 in 1 Fairness Facial::







This product can be used as wash, scrub and mask. Rs 99.

Garnier 3 in 1 Fairness cleanser helps your face to fight the harmful efects of exposure to sun, pollution and harsh environmental conditions that makes skin appear dull and dark. The face wash cum scrub cum mask works in 3 ways and helps you reveal brighter and more radiant skin.




Face wash: It is enriched with Zinc known for its purifying properties, it helps deep clean and eliminate impurities.




Scrub: It contains pumice, a natural exfoliating agent; it removes dark cells and visibly reduces skin imperfections.




Face mask: Enriched with White Clay known for its absorbing properties, it makes complexion more uniform to reveal an instant glow.